Jonah Botvinick-Greenhouse
Location: Highland Park, NJ, USA
Booking region: Available world-wide
Socials:
Bio:
I began juggling in 2010 when I was ten years old. Shortly afterwards in 2012, I attended my first WJF convention and won the junior overall championship. In 2013 and 2015, I then won the WJF advanced overall championship. I have been teaching juggling since 2014 when I began working with Juggling Life, a nonprofit organization which performs juggling shows and gives workshops to economically and physically disadvantaged individuals. After dealing with wrist injuries for over a year, I am recovered and excited to be juggling and performing again!
Why I Became A WJF Rep:
I became a WJF representative to help grow the sport of juggling. Juggling has been incredibly important in my life, both for developing discipline, fitness, and perseverance, but also as a source of relaxation, happiness, and enjoyment. The benefits of juggling are vast and yet it is a very unexposed sport. I am eager to increase the number of jugglers in the world by providing workshops and performances to students in schools, which I also hope will be an important step to ultimately pushing juggling into the Olympics.
Services Available
Offers a juggling based performance
Offers a juggling skill demonstration/explanation at the top of each class
Will stay at a school/venue for the day and teach up to 6 periods of juggling lessons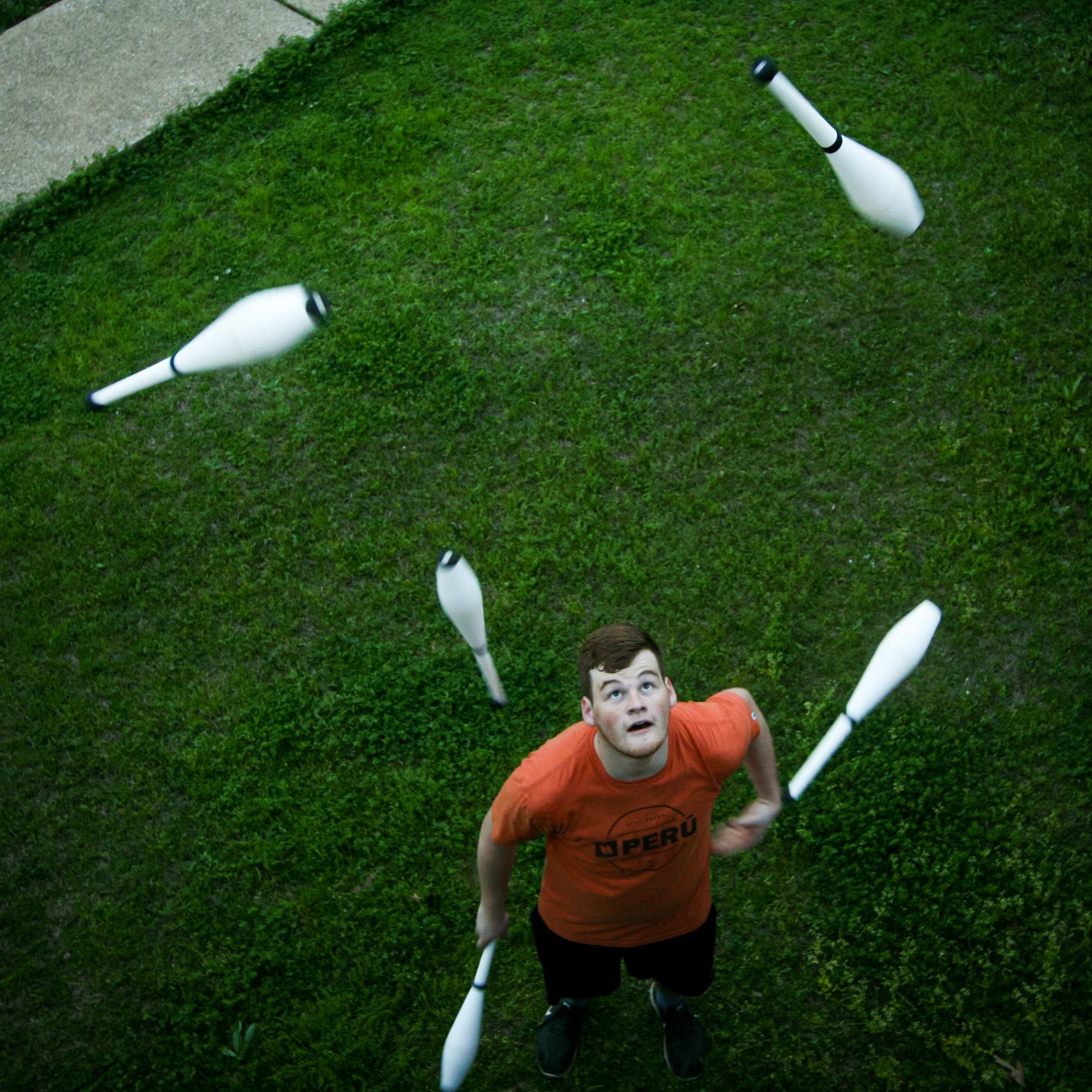 Location: Tyler, Texas, USA
Booking region: Available world-wide
Socials:
Video: Juggling 2020 Highlights
Bio:
I have been a juggler for 12 years. I started juggling when I was 8 years old through my cousin teaching me the basics. Juggling was and obviously still is a fun thing that instantly hooked me and is now a massive part of my life. I have participated in WJF events since 2013 and have won the Juniors Overall Championship in 2014 and the Advanced Overall Championship in 2017. I have also performed in many places such as the Austin Jugglefest and participated in the International Jugglers Association's competitions. I also hold 8 juggling world records.
Why I Became A WJF Rep:
I became a WJF Representative because I want to see sport juggling grow. Juggling has been a huge thing in the circus world but there are many jugglers who aren't necessarily entertainers per-say or don't point their juggling in that direction. Juggling is a thing that can be very physically taxing if taken to the maximum level. There is so much to be appreciated in jugglers who do incredibly hard tricks. I believe sport juggling can bring more understanding to the amazing things in juggling. On a personal level, juggling has for the most part been technical and it is the way where I push my own limits and brings me fulfillment in life. I have probably dedicated tens of thousands of hours to juggling. I am not the only one. I believe so many jugglers would benefit career wise by the expansion of sport juggling and turning what often people perceive as a strange skill into a sport with amazing athletes that challenge the limits of keeping things in the air. I desire to educate jugglers to reach their goals and to perhaps coach olympic athletes one day as well as perhaps be one myself. I love teaching people juggling and seeing their progress.
Services Available
Offers a juggling based performance
Offers a juggling skill demonstration/explanation at the top of each class
Will stay at a school/venue for the day and teach up to 6 periods of juggling lessons