The Program
A customizable program designed to motivate, inspire, and teach the skill of juggling. Select the WJF Representative in your city or one of our elite status instructors to travel to your school, institution or organization. Based on your preferences, your WJF Representative can provide the following:
A performance/demonstration for your entire body of soon-to-be jugglers
Individual class/break out session demonstrations and instruction
Teacher/Leader sessions on how to teach juggling
Options to become a WJF Affiliate and certified representatives to continue the program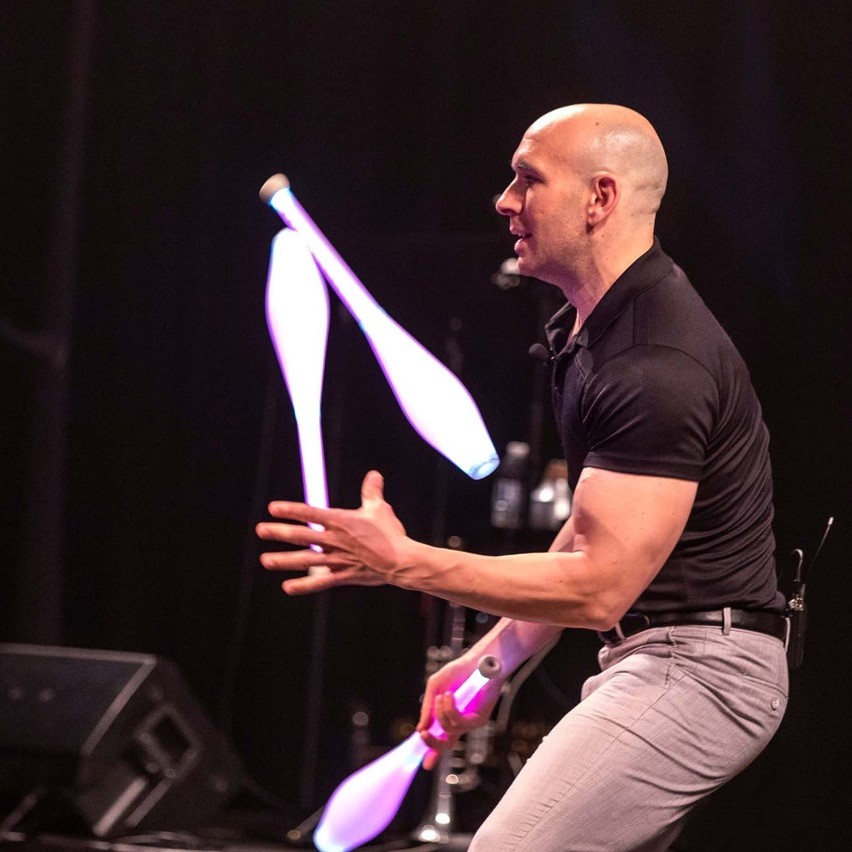 Jason Garfield
Seattle, WA
Booking Region: US
...
About Me:
I started juggling when I was 11 years old in 1986. Within a few years I had won several juggling contests and achieved international notoriety within the juggling community. To date I have produced several best selling instructional and demonstrative videos for juggling available on thewjfstore.com. After becoming frustrated with the lack of mainstream attention the skill of juggling attracted, I decided to create the sport of juggling modeled after the Olympic gymnastics code of points scoring system and, in 2003, I founded the World Juggling Federation with the goal being to produce sport juggling competition programs for ESPN while providing incentive and motivation for jugglers to push themselves to their technical limits and raise the bar globally. That goal was accomplished in 2004 and has continued to the present. After 15 years producing sport juggling competition programs, my new goal for the organization is to take the sport of juggling to the Olympics.
Why I Became a WJF Rep:
This youth and school program is designed to foster the development of our future Olympic competitors. In addition to designing the WJF Representative Certification training program, the WJF school program, the WJF skill level certifications, producing The Theory and Practice of Juggling, Etudes for Juggling, Olympic Juggling, and the scoring system for all WJF competitions globally, I'm looking forward to getting back in the trenches and providing one on one training for our future Olympic athletes to maximize their potential both as competitors and as successful adults.
Services:
Offers a juggling based performance
Offers a juggling skill demonstration/explanation at the top of each class
Will stay at a school/venue for the day and teach up to 6 periods of juggling lessons
Vova Galchenko
San Diego, CA
Booking Region: California
...
About Me:
Born in 1987, I started juggling in my home town of Penza, Russia when I was six as part of my parents' grand master plan to keep my younger sister and I off the streets. From foreign languages to pull-ups, from math and sciences to juggling, we did it all. My dad was a strong advocate for achievement being key to social mobility and hard work being key to achievement. As my sister and I witnessed hard work bringing in rewards, it reinforced our drive to work even harder. The virtuous cycle led us to performing at various events in Russia, some including guests from abroad. With help of a kind American juggler we met at that time, we bought a video camera and started posting videos of our juggling online. As is well known now, the internet has the power to accelerate the hard work achievement flywheel dramatically. Within a couple of years, we started getting invited to headline juggling events around the world as well as teach workshops. In our early teens, we travelled all over the world and by ages 15 and 12 we landed in the United States. With a great degree of help from the juggling community, we've been able to get settled in the new country and juggle professionally. My achievements spanned from media appearances on The Ellen Degeneres Show, Nightline ABC and many others to winning multiple world juggling championships. Eventually, getting in a car accident scared me into a career in IT that I have grown to enjoy even more so than juggling professionally, but I will never forget that it's juggling that has afforded all of this to me. I still love watching it done well and dabble in it myself occasionally. Having seen how far technical juggling has been propelled by the ability to brag about how good you are on the internet, I can only begin to imagine the explosion of skill that would be set off if juggling made it into the Olympics. Let's make it happen!
Why I Became a WJF Rep:
Learning correctly from the very beginning is essential in maximizing the potential of our future Olympic competitors. I'm honored to have the opportunity to play a small role in guiding the first generation of Olympic jugglers down that path.
Services:
Offers a juggling skill demonstration/explanation at the top of each class
Will stay at a school/venue for the day and teach up to 6 periods of juggling lessons
Have more questions? Ready to contact WJF to book your school program? Message WJF now!