The World Juggling Federation is a non profit corporation with 501(c)(3) tax exempt status.
All donations and gifts are tax deductible.
BECOME ONE OF OUR EXCLUSIVE "JUGGLING IN THE OLYMPICS" FOUNDING SUPPORTERS
With a tax-deductible one-time $10,000 donation, you'll be supporting the World Juggling Federation, a non-profit corporation executing the mission to expand and promote the sport of juggling while working toward inclusion in the Olympics. Be commemorated forever! THE OLYMPICS!!!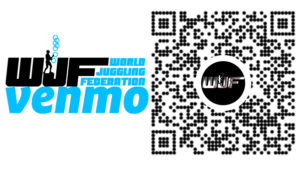 We also accept Bitcoin, Dogecoin, Ethereum, Litecoin, BCH, and BNB
By donating $10,000, you help us reach our minimum 10 people at $10K apiece to receive our first $100K. We already have 8 people committed. We just need two more to unlock the funding.
Any donations are appreciated. If you'd like to contribute a customized amount, we would happily accept your support.
Or donate on our Gofundme Campaign
If you would prefer not to use venmo or Gofundme, please email us and let us know how you would be most comfortable sending your support