It's Time To Take Sport Juggling
To The Olympics
When I first started the WJF, my goal was to get juggling competitions on ESPN. I did that in the first year. Then my goal became to increase the prize money higher than any other juggling competition payday in history. I did that in my third year and then at one point I raised the prize money as high as $10,000 with $7,000 going to first place. Then there was the idea for SkillCon and the Moxie Games and producing a full day of outside the box sports programming and I did that - 7 hours of Moxie Games on Dec 24th and a rebroadcast on Dec 25th. So what haven't I done...
Juggling in the Olympics.
People always bring it up, but I don't think anyone is currently working on it. I want to create an exciting Olympic event similar to gymnastics floor routines - choreography to exciting music, fast paced routines, professional looking athletes. The goal is to present sport juggling as seriously as any other Olympic sport. That's going to be an exciting new direction.
Throughout 2021 I will coordinate with jugglers around the world to hold competitions to determine who will represent their country in the sport of juggling. I will do the same for the United States through live virtual competitions. Although the advanced competitors will be the ones vying for a spot on the Olympic team, we will also hold online competitions for beginners, juniors, and intermediates since one day THEY too will be competing for a chance to join the team. Then we will all converge at WJF 16 this November in Las Vegas where, at WJF 16, we will hold our own olympics of juggling that will serve as our submission to the international Olympic Committee.
As such we are now accepting submissions for a variety of positions including WJF International Representatives and a Liaison to the International Olympic Committee. Additionally we are looking for a new marketing director, webmaster, 3D artists, graphic designers, a WJF Competition historian, a fundraising and sponsorship acquisition team, social media strategist, videographers, editors and more. All the positions can be found here:
I've detailed our plans for this year in the following three videos. More announcements will be coming soon including the introduction to our new team. If you want to join us, head straight over to the application page and tell us all about you!
It's going to be an exciting year filled with tons of new developments and a crazy amount of worldwide competitions online leading up to WJF 16! Start taking your practice game up an Olympic notch or two. Things are about to get real!
Thanks so much for your continued support over the past few years. If you'd like to help out with a donation, that would be much appreciated: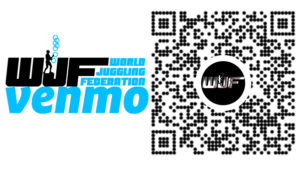 Thanks again and I'll be back soon!
Jason Garfield
World Juggling Federation
President